There are many different English Courses, choose your preferred:
What is MaltaLovers offering?
Study English in Malta with the best Language School Agency
Cheaper Accommodation than the schools
Walking distance from the schools
Swieqi | Sliema | St Julians
As we are based in Malta, we have our own accommodation. This is a great advantage as you can find better prices than book directly with schools.
Find your peace of mind in our student houses to learn English and share your experience with students from different nationalities.
Assistance during the whole stay in Malta
MaltaLovers will be helping you during your English Course.
Visa Assistance| Work Permit | Finding Job | Finding Accommodation
Another high and relevant different that MaltaLovers offers is assistance with your whole stay in Malta. We will support you during your whole stay in Malta. If you need help with Visa, finding a job, finding an accommodation (out of our range of apartment if you desire it) or any emergency (including medical emergencies).
At the same time, MaltaLovers offers activities during your stay and keep you updated with different tours and events that will help you to learn English and practice your English skills.
Choose your English school in Malta based on your needs to study English
You can choose from multiple options that MaltaLovers offers you to learn English in Malta
Swieqi | Sliema | St Julians | Gzira
Better than listen to all agents from each school, MaltaLovers can offer you a realistic comparison between each school and the advantages and disadvantages of each school. With MaltaLovers you can choose your English School in Malta based on your needs and learn in the best languages school that Malta offers.
Compare prices, quality, nationality mix, typical age and English courses that each school offers.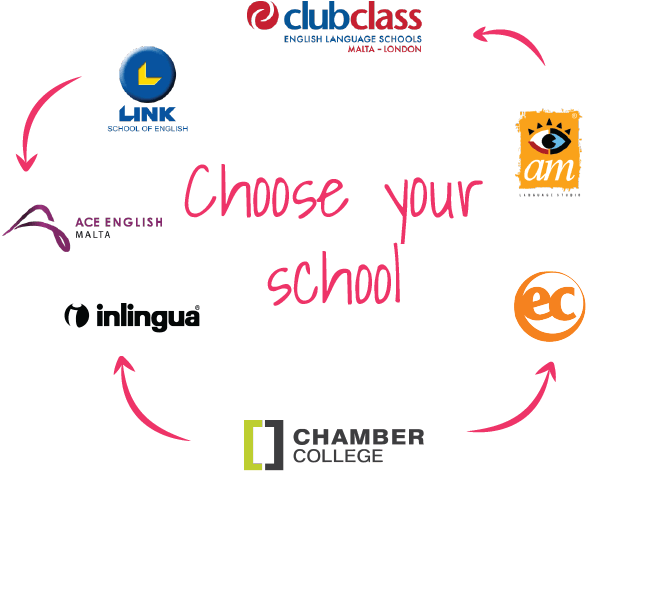 English Courses for different profiles
MaltaLovers offers different solutions for Adults, recent graduated, young students and families.
English 30+| English 50+ | Interships | Young Learners | General English | Exam Preparation
As MaltaLovers works with different English schools in Malta, we can offer you several solutions starting from the typical General English, we can offer the following courses:
General English 20/30 lessons
Exam Preparation
Business English
Evening Courses(Every day, three per week, twice per week at 6.30 pm)
English for Adults(30+ and 50+)
More courses
Why study English in Malta?
More than 80k English students each year have decided to Study English in Malta
Reasonable price
Low-cost English Course
Malta is one of the cheapest places in Europe. For that reason and more, Malta is becoming the number one option to study English for a reasonable price.
Increase your skills
Speak English
Improving your English language skills is crucial in an international setting, and Malta's diverse community offers an ideal chance to do so.
Where to Study English in Malta?
Which Language School shall I choose?
Students from all over the world choose InLingua
One of the most popular schools around the world
In the heart of St. Julians, ACE is a modern school
Small school who takes care of students in a perfect way.
Top level reputation supports Am Language
Stunning facilities makes Clubclass an amazing option
Request a quotation and improve your professional skills