Surfing Malta
Windsurfing/Sup is easy!
Windsurfing and Stand Up Paddle Boarding school in Malta
Mobile office, no fixed location
SurfingMalta is a Windsurfing and Stand Up Paddle Boarding school in Malta that has been rigging up and teaching the sport from Ghadira Bay for over ten years.
We specialise in beginner tuition, and we have developed a unique teaching method that allows all of our windsurfing and SUP students to learn in the quickest and easiest way possible; able to make the most of Malta's beautiful coastal retreats in no time. 99% of our students are able to start moving around on the boards after only twenty minutes of tuition in the sea.
Private Windsurfing Course
Design for both new or skilled windsurfers
This tour will start from Mellieha bay (Ghadira sandy beach) and takes us to Coral Cave. On the way to Coral Cave we will be paddling beside Mellieha cliffs. First stop will be at Slugs bay where we can have a short break where you can enjoy a swim and the nice surroundings.
Paddle Board Yoga
Different locations and available for groups
Paddle Board Yoga is a variation of stand up paddle surfing (SUP), combined with yoga, which originated in Rishikesh, India. The sport combines hatha yoga and vinyasa yoga asanas, or poses, with surfing.
Although yoga has its roots in India thousands of years in the making, paddle boarding is said to have originated in Hawaii and just in the past century has yoga become popular in America.
SUP Yoga sessions will be held at different locations depending on the weather conditions.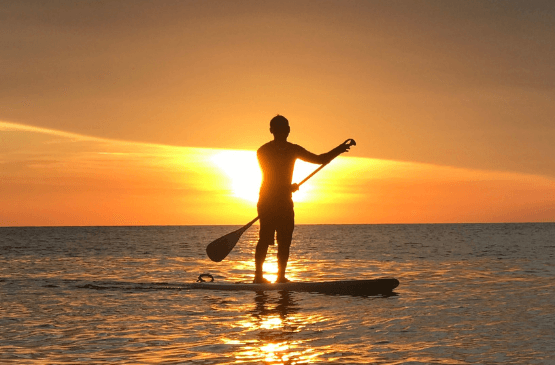 Windsurfing Courses
For new or skilled windsurfers new to Malta preferring one to one tuition with a more hands-on approach
Consist of only student and qualified instructor, and six hours of training and practical surfing. These sessions can be split into two separate sessions of three hours each, or three sessions of two hours per session, it will cover:
Basic windsurfing terms and safety procedures
Setting up and using windsurfing board and its sail components
Rigging of windsurfing equipment
Windsurfing positions
Points of Sailing (upwind, downwind and across the wind)
Steering (Gybe and Tack)
Weather and sea conditions.
Why Surfing Malta?
Windsurfing/Sup is easy!
Stand up Paddle Malta - Promotional video
Windsurfing/Sup is easy!