Blue Lagoon: Why you need to visit the jewel in Malta's crown
Get your sunblock and beach towel ready as we explore the natural beauty of Comino's Blue Lagoon.
Whilst Malta offers you a multitude of opportunities to explore an unrivalled rich cultural heritage, sometimes you just can't beat spending some quality time at the beach!
And if spending some quality time in the sun with your friends is the aim of your time away then you'd struggle to beat Comino in your pursuit of that idyllic spot to kick back and relax.
Most famous amongst the many hot tourist destinations that Comino has to offer is the stunningly picturesque Blue Lagoon.
The result of a small stretch of water between Comino and its sister island Cominotto, the blue lagoon boasts crystal clear cyan waters alongside pristine white sandy beaches that make it one of the most beautiful and popular attractions for visitors to the island.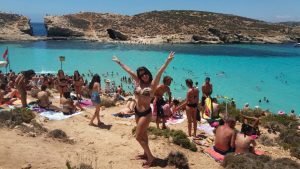 The island's popularity means that tours that offer you the opportunity to explore the island's extensive natural beauty, including the fantastic Captain Morgan tour where you will receive unparalleled access to the islands and the option to explore the many caves by boat, are easily available.
Away from the excesses of the peak tourism season, the contrasts between the island's bustling hot spots and day-to-day life are stark. With just three permanent residents, Comino is a place of calm and serenity for anyone considering any off-season ventures.
"The pursuit of some tranquility"
If the busy crowds of the Blue Lagoon aren't for you then it may be worth considering hopping over to Cominotto in the pursuit of some tranquility.
Separated by a 100 metre stretch of water, Cominotto is accessible by water ferry for an approximate price of €5 and can offers you the opportunity to chill out away from the Comino crowds.
The crystal clear waters of the Blue Lagoon's waters – whose Maltese name Bejn il-Kmiemen literally translates to "between the Cominos" – substantial marine life and relative quiet means that it represents a perfect spot for those wishing to indulge in the chance to snorkel in the beautiful Mediterranean.
With two contrasting vibes just a stretch of water apart, the area really does have something to offer for beach-lovers of all inclinations.
So, if the Blue Lagoon sounds like the type of place that you would like to visit during your time on the islands then you can learn more about it here in our beach guide of the island.
Check out why you need to hit up the Blue Lagoon!
Google Maps: Blue Lagoon, Comino