Gululu Restaurant: Home of award winning Maltese Cuisine
If the goal for your holiday is to truly absorb the incredible Maltese culture then visiting the Gululu Restaurant is a 'must-do' for your bucket list.
Since its foundation, the Gululu Restaurant has quickly grown into one of the island's most well-respected food outlets, providing simple yet traditional meals and the area's only full menu of Maltese food. To that end, the restaurant was bestowed the prestigious award for Best Maltese Food Restaurant for its exquisite cuisine.
As they put it themselves: "Despite having opened our doors only a few years back, we have built a strong reputation with the Maltese too and this is a source of great satisfaction to us".
The restaurant offers an array of traditional meals in a homely, relaxed environment that puts you at immediate ease, allowing you to chill out and spend time with your loved ones.
The traditional Maltese décor inside the establishment and al fresco dining from the restaurant's balcony that offers you the chance to absorb the views over the picturesque Spinola Bay as you enjoy your meal also means you won't be short of options to select an ambiance that is befitting of your tastes when visiting the establishment.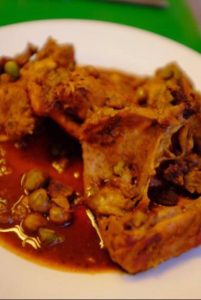 Traditional Cuisine at Gululu Restaurant
Maltese food has a deep-rooted tradition in plundering the riches of the Mediterranean Sea in order for families to deliver wholesome meals for their families.
To this end, the restaurant's specialty plates take great inspiration from this maritime past – with platters of fresh sea food including cod, tuna and beautiful octopus dishes on offering.
If sea food is not to your taste then you can take heart from the many dishes inspired by this tiny island nation's longstanding relationship with its Sicilian neighbours, which goes back as far as 5200 BCE.
Gululu offers a multitude of Italian inspired dishes, including rich pasta dishes and sour dough pizzas cooked in an authentic wood-burning oven; perfect as a meze dish to start your meal.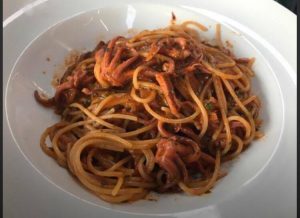 The iconic Fenek Stuffat, the national dish whose history supposedly lies in the restrictive hunting laws imposed by The Knights of St. John, is also on the menu – a wonderfully rich stew resulting from a rabbit being slow-braised in garlic herbs and white wine – served with plump marrowfat peas.
With an unrivalled menu of fine Maltese cuisine and a quality of service that will make you feel immediately at home in the beautiful settings of Spinola, we would highly recommend taking some time out to experience this award winning cuisine whilst you are on the island.
If you would like to learn more about authentic Maltese cuisine then check out the video below!
Find the Gululu Restaurant here: