Four hours under the sun, two hidden caves, and a whole lot of rowing.
We booked a SUP (Stand up Paddle) Tour during the weekend, and here's what happened:
Have you ever had that feeling you're not going to make it? That you just keep rowing but your goal is still too far away? You just want to give up, lay down, and rest for a couple of –huh, days.
This past weekend we learned how Standup Paddle and life, are pretty much the same: You can't afford to give up. And while it's ok to rest, you stand up, you keep your head up, and you just keep rowing.
Because, once you complete the tour, you might feel extra tired, but that big smile across your face, that's something you get to take home.
Connecting with Nature and Testing Our Endurance: Surfing in Malta
We met Austin just in time for our SUP tour: He's a true pioneer of surfing in Malta. Also, he knows all of the best-hidden spots and locations around the island.  With experience in Windsurfing, Stand up Paddle, and Standup Paddle Yoga, Austin is an outstanding teacher, and tour leader.
We were a little nervous because we're not the best swimmers out there, and we don't quite row like Vikings, but Austin considered our physical conditions, previous experience, and weather conditions for the tour. In the end, there was nothing a life vest, and a little bit of patience couldn't solve.
Some of us had previous experience with the Paddle Board, so we didn't spend much time with the basics. After re-learning the basics of Paddle, from standing up to rowing, we decided the route with Austin. Ours started at Armier Bay heading straight into Coral Cave.  As we head into the water, we noticed the sun shining on our backs. (Bring Sunscreen!) The first course of the tour took us an hour and a half, while the whole tour was 4 hours long –typically 3 hours long.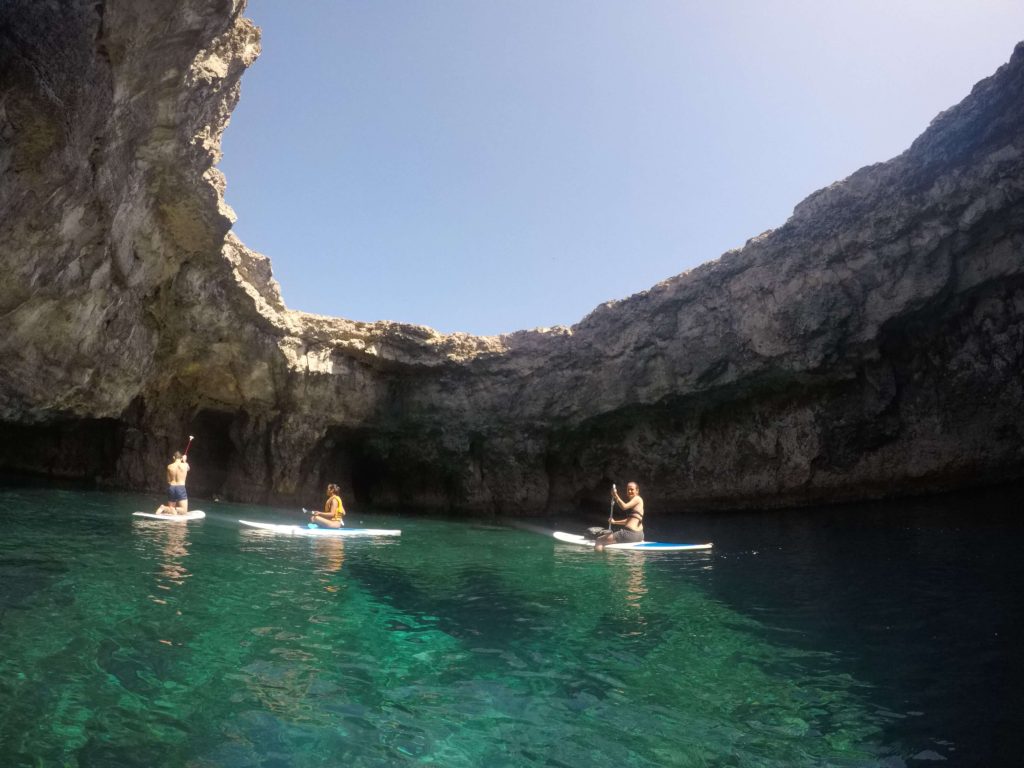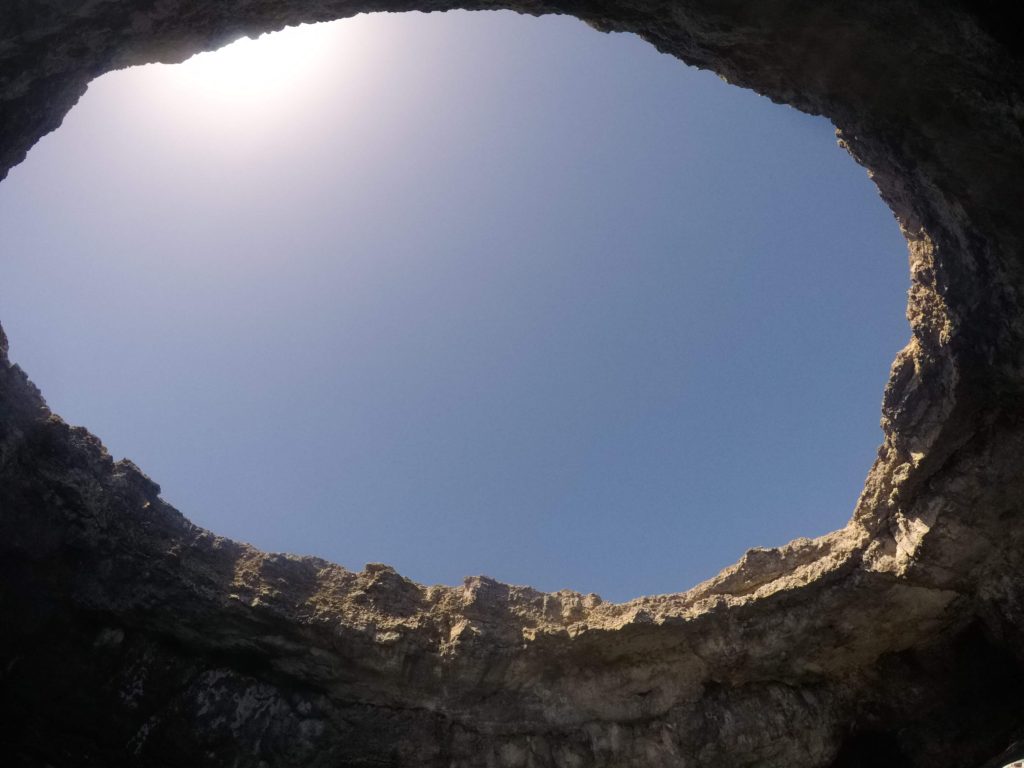 As we made our way back, we struggled a little against the current. Our arms were tired, after rowing and rowing, and it was very windy.  Still, we completed the tour, feeling great about ourselves, and looking forward to a next tour.
What to keep in mind before your SUP Tour
You don't have to be in shape, but you need a moderate endurance.

Previous knowledge with the Paddle Board helps. (Austin offers SUP Tuition)

Bring sunscreen. 3 hours under the sun can really hurt your skin without proper protection.

You don't have to be a great swimmer. If you can doggy paddle, you'll be fine with a life vest.

There are different tours. Each route has its own beauty.
Booking a tour
We had a blast during the tour, and we're pretty sure you're going to have a great time too.
The Tour Package includes board, paddle, and tour leader guidance for 35€ per person. Equipment was brand new and in top conditions. Tours may take place at Mellieha Bay, Coral lagoon, Armier Bay, Gnejna, St Thomas Bay, St Peters pool, Mistra Bay. The Valletta tour is also available.
You don't feel like rowing? Try the Standup Paddle Yoga (15€). A different way to connect with nature while practicing your favorite discipline.
Want something more dynamic? Try Windsurfing!
-Enjoy a taster session for €35 per person (2 participants minimum) or a private taster session for €45 per person.
-A windsurfing single lesson costs €65 per person. Private lessons cost €80 per person. The duration is 2 hours long. All equipment included.
-A windsurfing course split into 3 sessions of 2 hours each or 2 sessions of 3 hours each can cost €165 per person. The private course cost €200 per person.
Also, if you just want to rent some equipment because you're already a windsurfer pro, Austin has some of the best rates out there.
Interested? Learn more