Malta's top five blue flag beaches
The MaltaLovers review of the very best of Malta's blue flag beaches.
Every year, millions of people flock from across the world to this tiny Mediterranean island to indulge in its idyllic sandy beaches, crystal clear waters and wall-to-wall sunshine.
In 2017, twelve of Malta's beaches were awarded with the internationally recognised and prestigious Blue Flag eco label by Blue Flag International.
In homage to the great achievement of this island paradise, we give you our top five of Malta's blue flag beaches.
Għadira Beach
The first of Malta's blue flag beaches to make the list is Mellieha's Għadira Beach. Often referred to as Mellieha Bay, this is Malta's largest (and most visited) sandy beach, with an approximate length of 800m.
Sat in the northern tip of the Maltese mainland, Għadira beach is sat in the town and Mellieha. Its shallow waters, which stretch out nearly 50m into sea makes it a perfect spot for families to come and visit.
Għadira beach is also renowned as a great spot for a variety of water sport activities, including kayaking, paddle boarding and jet skiing.
The amazing Għadira Nature Reserve is also situated near to the beach. Home to a variety of small mammals and reptiles, this is another attraction that we would highly recommend you come visit on your holiday!
Learn more about what the beach has to offer here!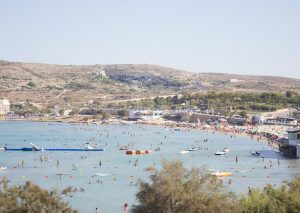 Ħondoq ir-Rummien
Ħondoq ir-Rummien is a picturesque little spot accessed via the small village of il-Qala, Gozo.
The bay is popular amongst divers and snorkelers thanks to its beautiful waters, whilst the numerous salt pans in the surrounding area are also a great point of interest.
The location is also a prime spot to enjoy a barbecue and relax with friends and family as you drink in the stunning views of the Comino – Just remember to be respectful and clean up once you've finished!
A family-friendly location, Hondoq Ir-Rummien is one of the best beaches to check out during your time on Gozo.
Learn more here.
Għajn Tuffieha Bay
Għajn Tuffieha is a beautiful beach situated in a small alcove upon the north-west coast of the island – near to the popular Golden Bay beach.
With towering clay cliffs and slopes, the beach emerges from the surrounding shrubbery to reveal a pristine sandy white bay.
The bay is an area of outstanding natural beauty that offers the opportunity to take some awe inspiring sunset snaps or take advantage of the extensive Mediterranean marine life in the crystal clear waters.
This Manikata beach offers umbrella and sun lounger rentals and there are many places in the locality that serve food and drink to the visiting tourists.
The popularity of this beach is emphasised by its average rating of 4.5 stars on TripAdvisor from nearly 300 votes, highlighting that this unspoiled beach is a must visit during your time in Malta!
Learn more about Għajn Tuffieha Bay here.
Bugibba Perched Beach
Sat in the Bugibba region of St. Paul's Bay, this beach is an ideal spot to visit for anyone looking to stay in the area which is one of Malta's largest seaside resorts.
A manmade beach, there are a number of bridges and ladders that have been put in place to maximise accessibility to the sea, whilst ramps are also in place to assist people with the need to use a wheelchair.
The increased accessibility, lifeguard post and availability of umbrellas means that this is a great spot for young families to enjoy some quality time at the beach together.
Being a tourist area, there are also a number of locations where visitors can find places to get food and drink or use the toilets.
Check out the beach here!
Golden Sands Beach
Another manmade beach, Golden Sands Beach is also located on the North West coast of the island and is ranked as the number one place to visit in St. Paul's Bay on TripAdvisor.
The beach leads immediately into the rugged cliffs of the coastline and is therefore a great spot for sunset photography.
Being such a well maintained beach, it is a very popular location for sun worshippers meaning it can become a little crowded at times – so be sure to get don't early and stake a claim to your spot!
Food and drink is available in the adjacent bar and sunbeds are available to rent for the day for as little as €5 for the day.
Enjoy reading about the treasures of Malta's blue flag beaches? Check out why Comino's Blue Lagoon is another must visit location!