Malta is one of the most coveted locations for practicing scuba diving. Take Cirkewwa for example, this diving location feature shipwrecks, small caves, and hidden tunnels on its depths. Other locations include the Um El Faroud, a sunk tanker of 3147 tons now surrounded by marine wildlife, including maidens, moray eels, rays, and scorpionfishes.
Bottom-line is simple: even if you're new to diving, this is one experience you don't want to miss.
Discovering the deep with OkDivingMalta
Past weekend we gathered the courage to go scuba diving in Malta for the first time. The idea of scuba diving was always thrilling and a bit scary at the same time for us, so we made sure to contact a professional school. We booked with OkDivingMalta in St. Paul's Bay, and went for its Discover Scuba Diving Course for beginners (60 €)… and here's the thing:
It was fantastic.
First of all, you get to take the course in your native language, so whether you speak English, Spanish, French, or Italian, you'll be working with an instructor that also speaks your mother tongue. Therefore, instructions are always crystal clear. There was no room for misunderstanding.
After filling the medical questionnaire we joined a detailed brief of how scuba diving works. We learned everything from how the equipment works to how physics work. It didn't feel like a chore and it gave us a boost of confidence before the confined water exercises. We took a suit, a mask, the weight belt, the fins, and we were ready for our first practical exercise.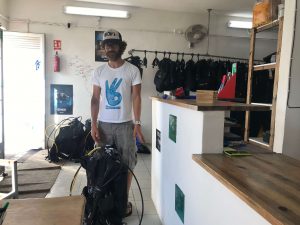 During the confined water exercises, we learned how to clean our mask, how to clean the regulator (which we use for breathing underwater), how to recover it in case we lose it, and how to react in case of a run of air type of situation. Our instructor, whose name was Oscar, is perhaps one of the most patient and kind instructors we have ever met. After he taught us how the diving suit works, how to add air (to go up) or release air (to go down) we were ready for the final test: the open water dive.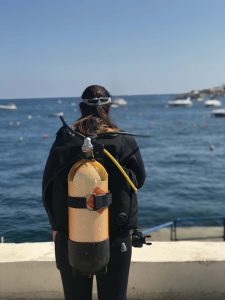 The best thing about OkDivingMalta is how close the pool is from the sea. It took less than a minute to get there. The open water dive was 30 minutes and we managed to dive a total of 6 meters. Oscar accompanied us during the whole process, using clear and simple signs to communicate. Time went by as we went into a state of flow; feeling submerged both literally and figuratively. Once out of the water we felt renewed and hungry for more. We went home feeling good as new, wondering about our journey, and enthusiastic about another day of scuba diving.
Booking a scuba diving course with OkDivingMalta
Whether you're a veteran scuba diver, an enthusiast or a beginner with no prior experience, OkDivingMalta has something for you. There's a Divemaster course, the Advanced Open Water Diver course, the Rescue Diver course and many more. Plus, you can get your PADI (Professional Association of Diving Instructors) certification with OkDivingMalta, which entitles you to certain diving privileges around the world.
If you want to know more, check the OkDivingMalta official page here or contact us at [email protected] if you want to book a course.